We are pleased to introduce Instant Win Sweepstakes to the Votigo Platform! Instant Win Sweepstakes are easy to enter and fun to win. Instead of waiting to learn if they won or not, for participants you can instantly reward entrants with a prize. Instant Win Sweepstakes are a great alternative to a Standard Sweepstakes and work best when award a lot of prizes.
To create your own Instant Win Sweepstakes, select "Instant Win" under "All" after navigating to "New Campaign" under the Campaigns tab.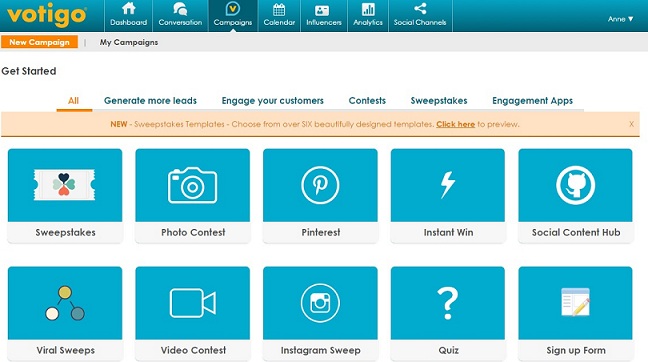 The process for creating an Instant Win Sweepstakes is almost the same as a Standard Sweepstakes with the addition of a Prizes tab. The Prizes Tab allows you to set the instant win prizes and configure number of prizes per day/campaign. Note that the frequency of the prizes per day/campaign is related to the entry settings selected under the Details tab.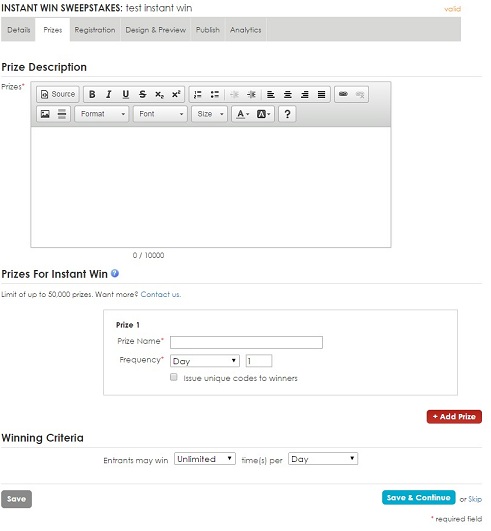 You can also customize the message for both winners and non-winners that they receive in the design editor. For more information on design editor refer to our support article at http://support.votigo.com/hc/en-us/articles/207603036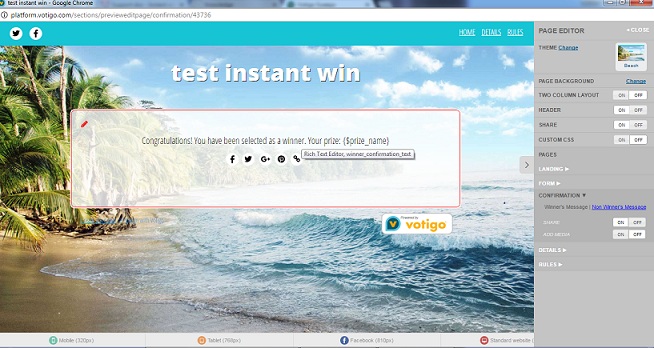 After the sweepstakes is published, we will generate random timestamps based on the prize configuration you set. The lucky entrant who enters immediately after a winning timestamp will be declared a winner and would be shown winner confirmation message. Non-winners will see non-winner confirmation message.
Winners will also receive a confirmation mail. Following is the email sent to the participant when they are chosen as a Winner [Prize name, sweepstakes name and submission date and time are generated dynamically based on the sweepstakes details.] –

From: Votigo Notification <notifications@votigo.com>
Date: Mon, Jul 15, 2013 at 2:34 PM
Subject: Congrats, you are the winner
To: test@test.com

Hello ,
Congratulations! You have won "$prize_name" as prize in the sweep stake "$sweep_name", in which you have entered on "$submission_date_time".
Thanks,
"$sweep_name" Team
A report of winners is available under the Analytics tab. Winners will be marked with a red star under the Registrations list and also listed in the Winner's Report.
Please note that the campaign start date, end date and Prize configuration cannot be edited once the sweepstakes is published as it would affect prize distribution.