We are happy to support emojis in Twitter hashtags for our Contests, Galleries and Sweepstakes. Now you can use emojis to pull tweets as per your specification into your campaign. Please contact support at support@votigo.zendesk.com to enable this feature for your campaign.
The emoji has to copied and pasted in the Primary or Secondary Hashtag text box when creating your campaign. Note that few emojis can be seen after you paste them and a few appear as a box due to the property of the browser you are using. An emoji does not need a "#". We also allow text and emoji and a space is not mandatory between them. The emoji can be anywhere in the text. Under the Registration tab you can enter these in the Hashtag field.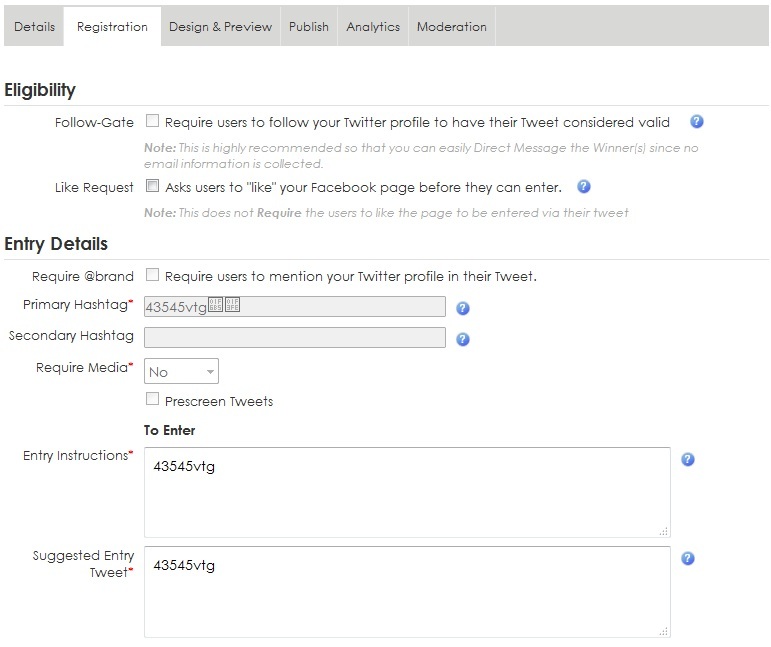 Refer - http://www.symbols-n-emoticons.com/p/facebook-emoticons-list.html for emojis.
Note that single emojis are not accepted if there is only one hashtag specified.
Following are allowable –
| | | | |
| --- | --- | --- | --- |
| | Emoji | Emoji + Text | Text/Normal Hashtag |
| Emoji | No | With AND is allowed | With AND is allowed |
| Emoji + Text | With AND is allowed | Yes | Yes |
| Text/Normal Hashtag | With AND is allowed | Yes | Yes |
Ex:

only this is not allowed. If you want to use emoji with only one hash tag then text + emoji is allowed ex :

phone. If you want to use multiple hashtags then you can enter only emoji in any of the hashtags. Ex: hashtag1:

or hashtag2: #vtg1234 provided you use "OR" condition. However in multiplehash tags only emojis are not allowed Ex: hashtag1:

, hashtag2:

. In multiple hashtags you can select AND condition if the emoji+text is selected.ex: Hashtag1:

flight, Hashtag2: phone