We are excited to introduce a new template type called "Flip" to the existing set of templates.
You can now have a Full screen Gallery with Thumbnail Flip, a photo/video/essay gallery with flipping thumbnails.
This has been introduced to display the gallery of submissions for Contests and Galleries.
To create a Flip Gallery you need to select "Flip" in Template Type under Details tab. Rest of the settings are same as for other template types during creation of Contests and Galleries.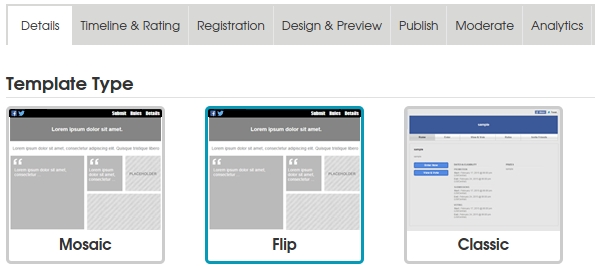 You can also set the number of entries to be displayed in a page by selecting the same in Page Editor under Gallery at # OF ENTRIES PER SCREEN.

Note that when Essay and Twitter Hashtag Submissions are selected then Thumbnail Layout would only be Solo.
Now we have Kiosk (Full Screen) display in Preview mode. The kiosk version displays only the gallery. It does not display the header, navigation, enter buttons, description etc. It also ignores the # of entries and the dual/solo thumbnail settings. The responsive grid on the kiosk version is based on users screen dimensions and the thumbnail size (set as minimum dimensions) entered in the design editor.

Under Publish tab we have a link to Kiosk/TV version. To get that link under Publish tab click on